Mastercard Onboard Risk Check
Onboard Risk Check (ORC) powered by RiskRecon provides a centralized and comprehensive view of potential merchant risk, enabling faster, more efficient, and informed merchant onboarding decisions.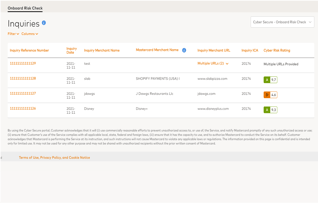 Merchant onboarding is challenging due to limited visibility into accurate risk information and time-consuming in-house solutions.
Features of ORC:
Robust IT profile encompassing all internet-facing systems and merchant hosting details (host provider name, location and number of systems being hosted)
Benchmarking of merchant risk against standardized compliance frameworks
Downloadable detailed reports on all uncovered vulnerabilities
Actionable risk plans with high-level remediation suggestions easily shared with merchants for relationship management
Benefits of ORC:
Reduce financial loss from risky merchants
Reduce onboarding decisioning time and merchant attrition
Reduce onboarding costs, resources and inefficiencies
Increase underwriting accuracy
Fill out the form to learn more about this solution from Mastercard!
Request a Demo!
Follow us for the latest insights