New Report: Measuring the Ongoing Impact of Multi-party Breaches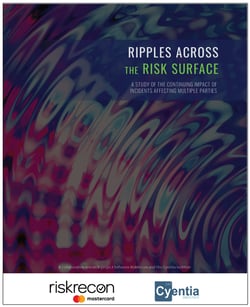 Click here to go directly to our interactive graphic and see how quickly multi-party cyber incidents are moving through organizations.
In a new research study from RiskRecon and Cyentia Institute, we built on our 2019 Ripples Across the Risk Surface report to understand the ongoing risks associated with third-party vendors and partners as well as the dangers posed to the rest of the supply chain.
Our research found a number of key data points that demonstrate the impact of multi-party breaches, including:
A median ripple breach event causes 10x the financial damage of a traditional single-party breach.

The largest ripple in terms of organizational impact affected 550 firms.

It takes 379 days for a typical ripple event to impact 75% of its downstream victims.
Download the report now to read all the findings from our research.
Get the Report
Follow us for the latest insights