Predicting Ransomware Event Frequency with RiskRecon Cybersecurity Ratings and Insights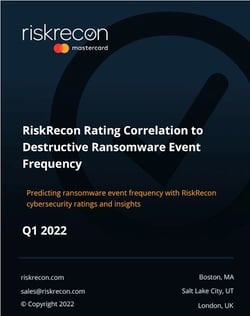 How do you minimize the likelihood of your key vendors falling victim to a ransomware attack? Do business with vendors that practice good cybersecurity hygiene. But, how do you know which vendors don't have good cybersecurity hygiene? The RiskRecon platform answers that question. RiskRecon's rating model strongly predicts the frequency of destructive ransomware events to expect for each of your vendors.
This paper details the correlation between RiskRecon's cybersecurity ratings and the frequency of destructive ransomware events that result in system encryption. It is based on an analysis of the cybersecurity hygiene of 470 companies at the time of ransomware detonation in their environments.
Download the Report
Follow us for the latest insights