Live Webinar - The Hypothetical Breach:
A programmatic approach to managing vulnerabilities in the supply chain
Date: Wednesday, June 14, 2023
Time: 2:00 pm - 3:00 pm ET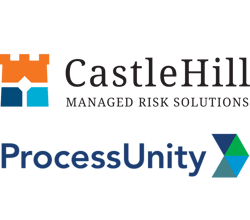 Breaches can occur and vulnerabilities may arise, regardless of how secure you believe your cyber supply chain to be. There is always the possibility of a new threat such as Log4J, Solarwinds, or others emerging.
The question is, can your TPRM program effectively manage and remediate the downstream impact across your business-critical service providers, third parties, and beyond? Join Castlehill Managed Risk Solutions, ProcessUnity, and RiskRecon to explore how to build robust, automated processes within your TPRM program and respond quickly and effectively to new cyber risks.
Our team of TPRM experts will discuss best practices, workflows, and supporting technologies, including:
Continuous cyber risk monitoring
Incident management
Automated and targeted risk assessments
Risk remediation and audit trails
Delivery to your desk from a managed service approach
Don't wait until it's too late; learn how to strengthen your TPRM program and protect your business.
Register for the Webinar
Follow us for the latest insights