RiskRecon Program Impact: A Forrester Total Economic ImpactTM Study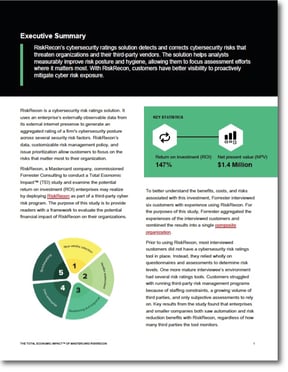 RiskRecon, a Mastercard company, commissioned Forrester Research to conduct a Total Economic Impact™ (TEI) study and examine the potential return on investment (ROI) enterprises may realize by deploying RiskRecon as part of a third-party cyber risk program. The purpose of this study is to provide readers with a framework to evaluate the potential financial impact of RiskRecon on their organizations.
Here are some key results from the study:
RiskRecon enables up to 150% higher productivity for analysts
RiskRecon's ability to target and automate efforts drive 56% efficiency for routine assessments
Leveraging RiskRecon data for audit efforts on critical vendors eliminated 70% of external audits
Utilizing RiskRecon findings during M&A due diligence saves 80 hours of manual work
Download the study now to see the full quantifiable results of the Total Economic Study from Forrester.
Download the Study
Follow us for the latest insights