The Analyst View: State of Cybersecurity Risk Ratings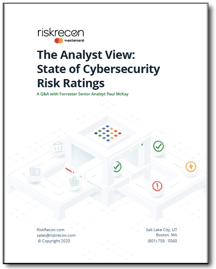 Cybersecurity risk ratings are rapidly becoming a critical component of third-party cyber risk management programs. Security leaders are beginning to use them to find quantitative data to scrutinize the statements made about security by their third parties, supporting business-critical commercial discussions and risk decisions. Increasingly, security leaders are seeking to operationalize this data to build more robust information from which they can base their risk management decisions.
RiskRecon spoke to Forrester Senior Analyst Paul McKay to discuss how security leaders are making use of ratings data within their third-party risk management processes.
In this paper, Paul McKay discusses:
why cybersecurity risk ratings matter
how to get value out of cybersecurity ratings technology
measurement and reporting metrics that come out of cybersecurity risk ratings solutions