eBook: Bridging the healthcare Technology gap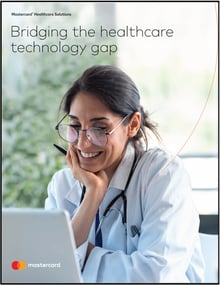 As the volume of digital patient records and other sensitive information continues to grow exponentially, healthcare data security, cybersecurity, and fraud prevention becomes an urgent issue for providers, payers, and patients. The healthcare industry is facing a growing technology gap.
With fraud costing the industry over $300B annually and reported data breaches up 25% YOY in 2020, healthcare organizations can reduce risk with advanced technologies like predictive analytics, artificial intelligence (AI), biometrics, and cybersecurity that have been successfully used in financial services and other industries for years.
Discover how Mastercard is partnering with the healthcare industry to secure its patients and data while driving down costs in four key areas:
Detecting and prioritizing third-party cybersecurity risks

Preventing fraud, waste, and abuse with AI

Keeping valuable healthcare data safe and secure with advanced cybersecurity solutions

Verifying users and protecting patient information with biometrics
Download the eBook
Follow us for the latest insights