10 Steps to Incorporating Continuous Monitoring into Your Third-Party Risk Management Program
If your organization seeks to gain more visibility into third-party cyber risk than questionnaires offer but struggles to scale up coverage through on-site reviews, continuous monitoring can offer a clear path to better results. But moving from a questionnaire-based approach to a program backed by continuous monitoring will take planning and finesse to successfully pull off. This guide will fill you in on the steps you can take to incorporate continuous monitoring into your third-party risk management program.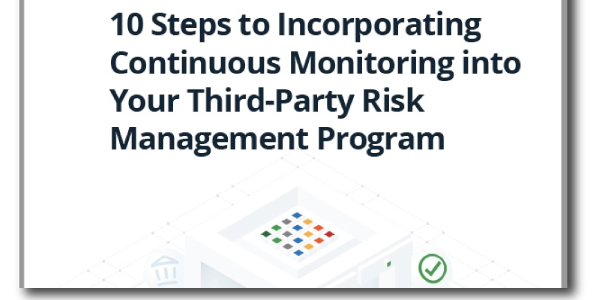 What are the steps you should be following to enhance your third-party risk management program with continuous monitoring?
Set your policies

Map internal standards against objective data

Do a pilot

Setting expectations

Embed policies in contact language and RFPs

Use automation and tools to operationalize risk data

Shift internal resources to support vendors

Integrate third-party continuous monitoring into cyber incident response

Make incremental improvements along the way

Feed cyber data into broad vendor risk management program reporting
Download our white paper now to get the full details of each of these steps!