Case Study: Reducing Risk in the Finance Sector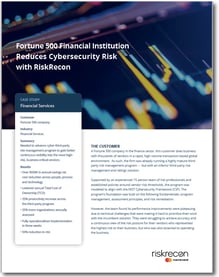 Why are financial institutions turning to RiskRecon to help them reduce their cybersecurity risk? Read our new case study to learn why a Fortune 500 financial firm selected RiskRecon to advance its third-party cyber risk management program, gaining continuous visibility into business-critical vendors.
In this case study, we will walk through the customer pain points, their key requirements, the metrics that are driving the successful implementation of the RiskRecon platform - including over $600k in annual cost savings.